Prehistoric France:
Quick links:
Of the 6,192 standing stones, or menhirs...which a count of 1880 reckoned to exist in France, 4,747 were located in Brittany, 3,450 of these being in Morbihan. (3) 'There are over 5,000 Menhirs in Brittany alone'. (1)
According to French statistics of 1864, there are 140,000 'barrows' or 'tumuli' in the Departments of the Cote-d'Or, Vosges, Haut-Rhin, Bas-Rhin, Doubs, Jura, and Ain. (2)
According to the 1864 survey, the number of 'Dolmens' in France was then more than 2,225. (2) Today, the estimate stands at approximately 4,500.
News : The "lady of Villers-Carbonnel"
(Dec 10, 2011) The Independent:
Rare Earth Mother Figurine found on the Banks of The River Somme.
Featured French Locations:
La Marche Cave Art.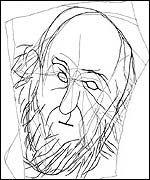 Of the 350 known sites of European cave art from the Ice Age, almost half are located in France. (8)
Of all the examples of French Cave art, La Marche is surely the most puzzling. The art is confidently dated at 15,000 BP, and was found etched and painted on hundreds of carefully placed schist slabs covering the cave floor. The images include several animals but more interesting are the numerous etchings of faces and heads and several depictions of people wearing boots, hats and clothing.
Although at first considered too controversial to contemplate such quality art at a time when Europe was in the throes of an Ice-age, this art is now being taken seriously and sheds new light on our existence at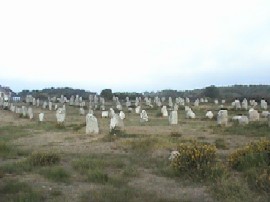 The Carnac complex.
Possibly the best known megalithic French site, the road-sign as you enter Carnac has the words 'Cairn-ac' beneath it, which clearly associates it with 'Cairn' building. However, John Michel tells us confidently that the site was named Carnac after the Egyptian Karnak by the Count Maudet de Penhouet. (1)
Carnac has the largest concentration of standing stones in the world, and the area is literally covered in megalithic ruins of every type dating back to 6,850 BC (5)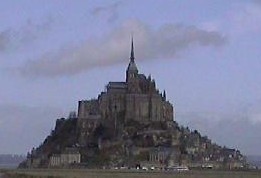 Le Mont St. Michel.
This fascinating island sanctuary has attracted pilgrims since the middle ages. Although the dedication to St. Michael can be traced back to the middle ages, the alignments to other 'St. Michael' locations (including prehistoric ones), is suggestive of a deliberate system of placement, which may have operated between certain ancient sites.
Xavier Guichard and the 'Alaisian' Mysteries:
- France was home to a detective called Xavier Guichard, who in the early 20th century, while investigating the ancient roots of place names, discovered an prehistoric network of alignments extending throughout France (and other areas of Europe), which were connected by locations with the root-name 'Alaise', and through longitude and latitude. He concluded that he had touched upon the Eluesian mysteries of ancient Greece. His work was entirely independent of Alfred Watkins work on 'Ley- lines'.
(Read Eleusis Alesia: Facsimile of an Original Copy)
The Gavr'inis Passage Mound:
Constructed at around 3,300 BC, the passage mound on the island of Gavr'inis contains one of the most spectacular examples of engravings in all the prehistoric world. There are several indications that the builders of Gavr'inis may have been the same people that constructed the great structures in Ireland at about the same time.
Directly in front of Gavr'inis are now partially submerged twin stone circles on the small island of Er-Lannic.
Le Grand Menhir Brisé: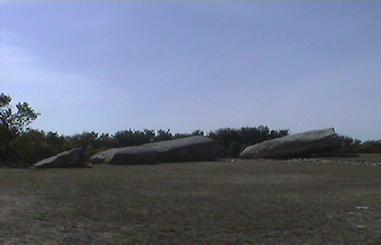 This fantastic stone is 20m from end to end. It was transported from at around 50 miles distant (3), and is regularly estimated at over 300 tonnes.
This was once the largest standing stone in all Europe, its presence is a record of capability and excellence in the Neolithic period, which is a far cry from the traditional view of primitive Neolithic hunter-gatherers.
The original construction would have included another 18 stones, which have all gone...or have they?
The Great Loire Dolmens: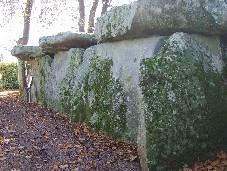 This group of 'Dolmens' between Saumur and Blois on the river Loire are some of the most impressive in Europe. They are puzzling to archaeologists as none of them appear to have ever been covered with earth, and there have been no human remains found in them, which precludes them from being intended for passage graves or funerary structures.

In France an inter-gradation can be observed between the rudest and most ancient dolmens and later varieties where the support stones are squared off into four vertical faces or tapered into cylindrical columns.

(1)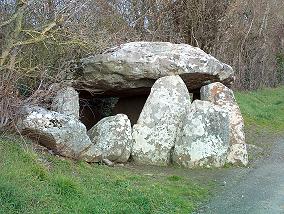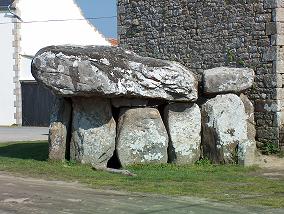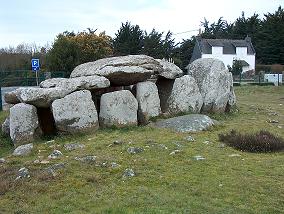 Carnac, France. (The progression from Dolmen to Passage 'Grave/Tomb')
The Mystery of the Lochmariaquer Menhirs:
Le 'Grande Menhir Brise' (The Large Broken Stone) at Lochmariaquer was once the largest standing stone in all Europe. Today it lies broken in four parts.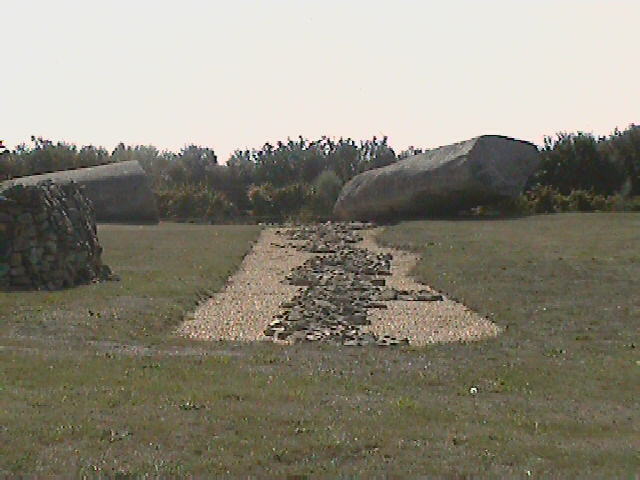 Archaeology has determined that originally, there were another 18 pits in a row running from the stone, and it is believed that each once contained a menhir (of decreasing size), which were placed there at around 4,500 BC.
The length of the remaining stone is 20m from end to end. If approximately 20% of this stone was originally underground (as suggested by a local tour-guide), we can assume that it actually stood at around 16m above ground level.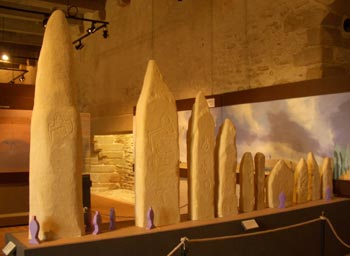 An impression of the design of the original 4,000 BC structure.
At a later date of approximately 3,300 - 3,100 BC, most of these huge menhirs were re-used and distributed to other locations in the region. The largest stone (at least) was left upright at this time, as evidenced by the remains of its fallen parts, which presumably fell at a later date than when the other stones were taken and re-used.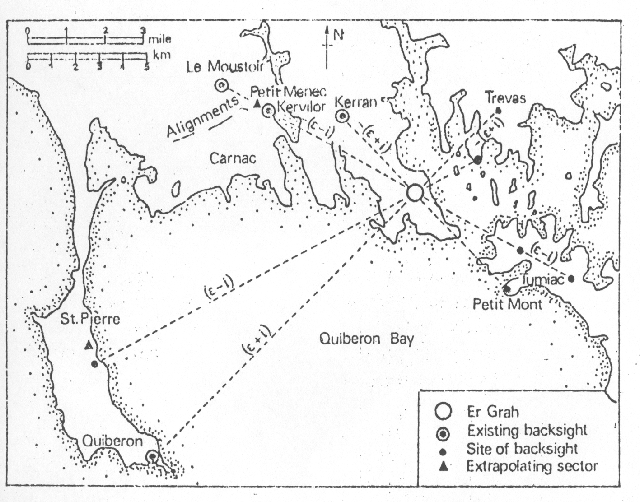 Prof. A. Thom determined that the menhir was positioned so as to be a giant lunar back-sight for several other nearby locations.
(More about Le Grand Menhir Brisé and the Missing Menhirs)
Les Megalithic Facts:
In Charente, France, there is a stone reputed to weigh nearly 40 stones. The nearest source of similar stone is over 18 miles away. (7)
The Tallest Menhirs in France:
The Tallest Menhirs in France .
Menhir (Location)

Height (m)
Height (ft)
Lochmariaquer (Morbihan) - (Fallen).
20.50
67.30
Plésidy (Côtes du Nord)
11.12
36.50
Plouarzel

(Finistère)

at Kerloas
11.05
36.25
Louargat

(Côtes du Nord)

10.30
33.80
Kérien

(Côtes du Nord)

9.63
31.60
Dol (Ille-et-Vilaine) at Champ-Dolent.
9.30
30.50

Grande Menhir de Counozouls.

8.90
29.75
Plouarzel (Finistère) near the village
8.77
28.80
Kergadiou (Brittany) - (Two menhirs, one fallen)
8.75
28.50
Pédernec

(Côtes du Nord)

8.50
27.90
Menhir du Men Marz. (Two menhirs, one fallen)

8.50

27.90
Glomel

(Côtes du Nord)

8.50
27.90
This group of dolmens are congregated between Samur to Blois, on the river Loire are some of the most impressive in France. They are puzzling to archaeologists as none of them appear to have ever been covered with earth, and there have been no human remains found in them, which precludes them from having been intended for passage mounds or funerary structures.

(1)

They have several construction features which are peculiar to the area, such as the the portalled entrances, which lead directly into the large internal chambers. They are invariably orientated east-west, with the opening facing east, suggesting a preference for equinoxial orientation.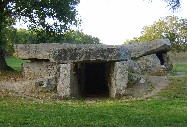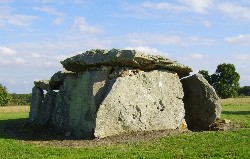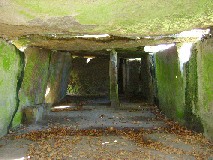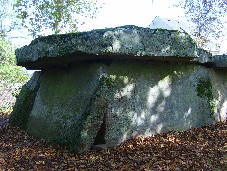 Other dolmens can also be found north of the Loire at Soucelles, La Roche Thibault, Bauge, Nr Mettray (La Grotte des Fees). South of the river in the Samur region there are more west of Gennes and in a farmyard near St. Hilaire (Dolmen de la Pierre Boire), and the massive Le Gros-Chillou at Briancon, Cravant, which is 50 ft (15.2 metres) long and 10 ft (3.1 metres) high.
(More about the Loire Dolmens)
Palaeolithic France.

Chauvet Pont D'Arc.

The Cave of Forgotten Dreams. Oldest Cave-art on record.

Lascaux.

The 'Sistine Chapel' of Palaeolithic Cave-art.

La Marche.

The Largest Collection of Human Representation in Cave-art.