After World War II, the small cave was opened to the public and, at one point, it was receiving as many as 1,800 visitors per day. But by the late 1950s, the visitors' breath was blamed for the appearance of lichen and small crystals on the walls, prompting the government to close Lascaux to the public in 1963.
Since then, only five people per day, five days a week, have been allowed to visit the underground gallery by special permission, and tourists are steered into a replica of the cave complex nearby. The replica, known as Lascaux II, opened in 1983 and now draws more than 250,000 tourists each year.
'Recent research on Lascaux has included some investigations of the hundreds of bacteria which have formed in the cave. Because it was air conditioned for decades, and then treated biochemically to reduce mould, many pathogens have made a home in the cave, including the bacillus for Legionnaire's disease. It is unlikely that the cave will ever be opened to the public again...'.
(So what can you do about it?... Get Involved Here )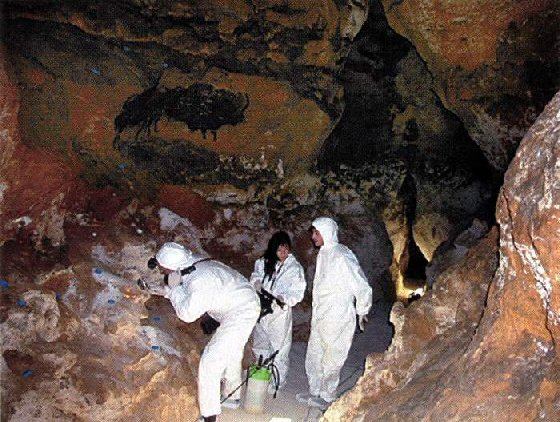 Cleaning off the white mould on the wall of Lascaux.
(Photo Credits: http://www.donsmaps.com)
Lascaux II.