Location:

Nr Cliffony, Co Sligo, Ireland

.

Grid Reference: 54.44° N, 8.43° W.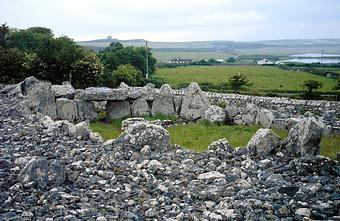 Creevykeel: (Court Tomb/Cairn).
There are over 350 known court-tombs in the whole of Ireland, but only five are in the south. Creevykeel, adjoining the Sligo-Bundoran road 2.4km (1-1/2 miles) NE of Cliffony, is certainly the most impressive and has been thoroughly restored.

The shapes of the pillar stones are unique, as well. Many archaeologists refer to the stones and male and female, the males being the cylindrical pillars; the females being the broader, smoother stones having a diamond like shape
Creevykeel:
(Giant's Graves).
Creevykeel is also known as the giant's graves as three tombs once existed in this area.
Two have since disappeared, at least one since 1912. This great court tomb was first excavated during the Fourth Harvard Archaeological Expedition to Ireland in 1939. It was shown as an antiquity on the 1909 OS Maps.
Located within a wedge-shaped cairn, this tomb was originally about 61 m (200 ft) long. At the eastern end is the main entrance, through a small passage, which leads into an oval forecourt. Originally paved, the forecourt is very large : 17 x 10 m (56 x 33 ft). Close inspection shows a change in size of the orthostats ending the court, as if they might have been built in more than one phase.

Based on the surviving kerbstones it is estimated that the length of the original cairn was approximately 48 meters. Unfortunately the restorers have overdone their job by extending the already impressive cairn with an other 12 meters.
(1)

The tomb continues on beneath a lintel stone through two successive chambers, where four cremations have been found. Even further on are the remains of a possible three more burial chambers.
During Hencken's excavations of 1935, a chalk ball was discovered at Creevykeel, it is an item similar to those found in Brittany, which may be a further confirmation that court-tombs often slightly pre-date passage-tombs. Other grave goods included Neolithic pottery, leaf-shaped flint arrowheads, hollow scrapers, and polished stone axe-heads.
Astronomy:
Creevykeel Court Tomb is roughly built on an east-west axis, and apparently the stones used for the court are perfectly aligned with the constellation of Virgo between the autumn equinox and the summer solstice as they were in 3117 BCE.
(1)

Other 'Court-tombs' are found in Sardinia, where they are referred to as 'giants tombs'.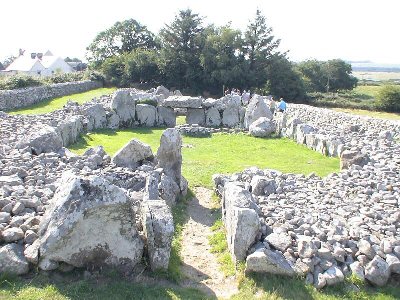 (Other Prehistoric Irish Sites)