Location:

S

ão Brissos, Montemor de Novo

.

Grid Reference: 38.53° N 8.13° W.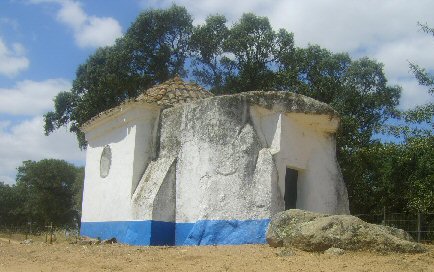 Anta-Capelo de São Brissos:
'Christianised Dolmen'.

Dimensions: 4m diameter and 1.8m high.

Although it isn't much to look at, this was once an important pilgrimage site in times of drought.

São Brissos is an important part of the Evora landscape, as demonstrated by the fact that it is part of an alignment of significant sites in the area.

(Click here for map of the site)
Anta-Capelo de São Brissos:
(Anta-Capelo de Nossa Senhora de Livramento).
This 3rd - 4th millennium dolmen was converted in the 17th cent to honour 'Our Lady de Livramento'.
The dolmen is now the lobby of the chapel. It is composed of five uprights and still retains traces of a corridor.
The site was until recently, a site for pilgrims and according to tradition, it took a 'whole roast-lamb for tasting after the mass'. Processions were common to the chapel in years of drought.
Today, the chapel is only opened on request (telephone numbers available at the site).
Tradition:
Legend has it that the Lady of Livramento and San Brissos had a son which was killed by the lady of Snow (Neves). In drought years, the effigy of their son is carried to Sao Brissos chapel, the rain symbolizing the tears of sorrow for being kept away from their son.
Alignments:
Sao Brissos is part of an alignment of three sites: The three significant sites are aligned over 9 km's, they are: Gruta do Escoural, the Christianised 'Anta Capela de S. Brissos', and the 'Necrópole de Vale Rodrigo'.
Gallery of Images: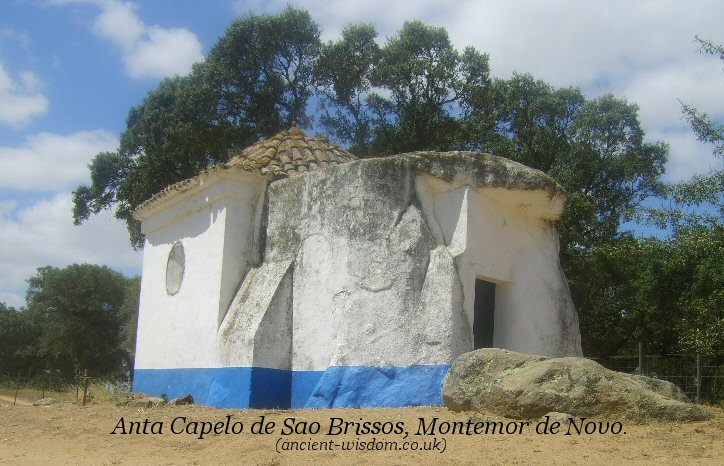 (List of Prehistoric Portuguese sites)