The tunnel passes under the Temple of the Feathered Serpent, the most important building of the Citadel, "and the entry was located a few meters from the pyramid. A vertical shaft of almost 5 meters by side is the access to the tunnel: it goes 14 meters deep, and the entrance leads to a nearly 100 meters long corridor that ends in a series of underground galleries excavated in the rock.
The tunnel was discovered in late 2003 by Sergio Gomez and Julie Gazzola, but its exploration has required several years of planning and managing the financial resources necessary to carry out research at the highest scientific level. So far, 200 tons of earth have been withdrawn, he said, while doing this we have found about 60,000 pieces of artefacts and pottery.
"Several indications suggest that access to the underground passage was closed between 200 and 250 AD, probably after depositing something inside. One of the hypotheses postulate that, within the large chamber detected by the GPR, we could locate the remains of important people in the city. "
The investigations have led to know with certainty that this tunnel was made prior to the construction of the Temple of the Feathered Serpent and the Citadel. The tunnel is contemporary with a large architectural structure, which could be a ball game court, according to the form of the ground. According to the hypothesis about the meaning and symbolism of the tunnel, archaeologist Sergio Gomez, said the tunnel had to be linked to concepts related to the underworld, hence it is possible that in this place were carried out initiation rituals and the divine investiture of Teotihuacan rulers, since the power was acquired in these sacred spaces.
the excavation have permitted to recuperate thousands of small ornaments, made of shell, jade from Guatemala, serpentine, slate and obsidian, thrown by the people from Teotihuacan as offerings at the moment of closing the entrance. Several parts of a frieze that may have decorated a building prior to the Temple of the Feathered Serpent, and that was dismantled, have been found as well'.
(5)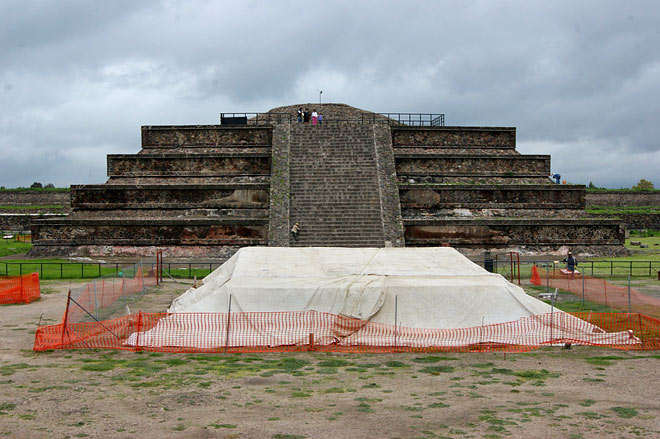 © Photo: DMC, INAH. Photographer: Mauricio Marat
(Press release of the National Institute of Anthropology and History (INAH), Mexico, 3 August 2010)
"It is possible," concluded Sergio Gómez, "that the tunnel discovered would have been the most important and sacred element around which the first constructions were undertaken on this site about 100 B.C., and where later on The Citadel was erected, which was the magnificent stage where rituals associated with the myths of creation and the beginning of the mythic time must have been performed."
(MailOnline: June, 2011). 120m tunnel discovered, believed to lead to rulers burial chambers.