Arbor Low as a prehistoric geodetic centre.
Arbor Low is considered by many to be a centre of Ley activity in the British isles.
The significance of Arbor low is demonstrated in its alignment with Avebury and Stonehenge. Because we know that Stonehenge, Avebury and Glastonbury form a right angled triangle (accurate to within 1 part in a thousand) (click here for details), it means by inference that Arbor Low is also the northern most point of a large right angled triangle with Stonehenge and Glastonbury.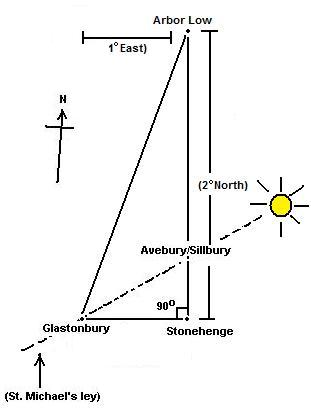 .
Arbor Low sits 1
° East of Glastonbury Tor and 2° North.
Arbor Low (53° 10' N, 01° 46' W),
Glastonbury (51° 09' N, 2° 45' W).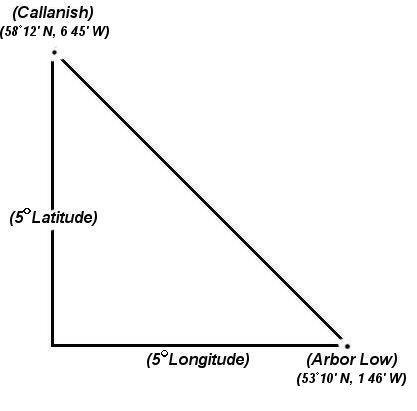 Arbor Low also sits 5

° South of Callanish and 5° East.

Arbor Low (53° 10' N, 01° 46' W),

Callanish (58°

12' N, 6° 45' W).

...and 5.5° North (and the same longitude) as Mont St. Michel in France.

Arbor Low (53° 10' N, 01° 46' W),

Mont St. Michel (48° 39' N, 1° 46' W).
And finally, it can be seen that Arbor Low and Stonehenge are connected to Bryn Celli Ddu, in Wales through 'Pythagorean' geometry.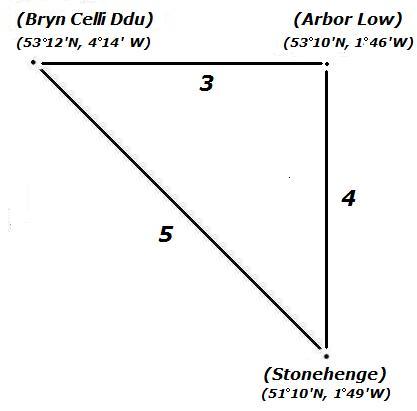 It is noticeable that one of the internal angles created the 3:4:5 triangle is 53° 10', the same as the latitude it sits on. This same geometric fingerprint is found at Stonehenge (In the alignment of the 'Avenue').
The apparently deliberate placement of significant prehistoric sites by exact degrees of both longitude and latitude is something that is also commonly seen in other ancient cultures such as the Ancient Greek oracles, several middle-eastern sacred sites, and in early dynastic Egypt, all of which show high levels of Geodesy in the placement of the most significant sites.

The latitude of 53° 10' is the same angle as that produced by the 3:4:5 Pythagorean Triangle. It is also coincidentally, the same as the exterior angle of Khafre's Pyramid at Giza. This same geodetic phenomena is repeated with The 'Great Pyramid and Silbury Hill, both of which have exterior angles which reflect the others latitude.