Location:

Wiltshire,

England.

(

O/S - SU 113634

)

.

Grid Reference: 51° 22' 8.41" N, 1° 50' 15.56" W.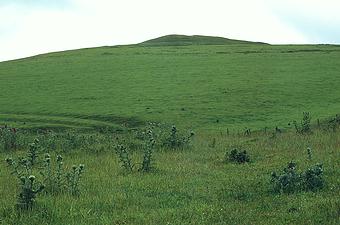 Adam's Grave: (Long Barrow).
This long barrow is about 60m (196ft) long and 6m (19ft) high. On either side are ditches still 6m (19ft) wide and 0.9m (3ft) deep. At the SE end are traces of a sarsen stone burial chamber. In 1860 John Thurnam opened this chamber to find three or four incomplete skeletons and a leaf-shaped arrowhead.

Originally, there seems to have been a retaining wall of sarsens and drystone around the barrow. In AD 592, when two warriors, Coel and Caewlin, fought beside it, Adam's Grave was known as Wodnesbeorg.
(Map of site)
Adam's Grave:
('Woden's Barrow', 'Walkers Hill').
Adam's Grave is a destroyed Neolithic long barrow on the summit of Walker's hill in Wiltshire, with commanding views of the Marlborough downs. It is a part of the larger prehistoric ritual landscape surrounding the Avebury/Silbury complex. Originally, it would have had a chamber system inside the mound similar perhaps to that seen at West Kennet. The magnificent side-ditches are a feature of both chambered and un-chambered long barrows on the Wessex chalk. (1)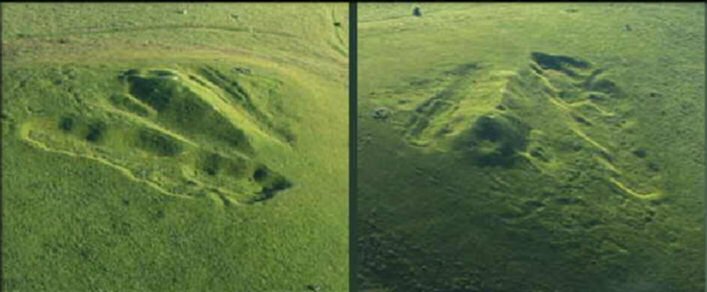 Adam's Grave from overhead.
The long-barrow is situated in the heart of the Avebury landscape. Adams Grave is 3 miles further south along the Ridgeway from the Sanctuary, which is the official end-point. The Ridgeway actually continues south to the foot of Woodborough hill, in the valley of Pewsey, between Knapp hill and Adam's Grave.
Just along from the barrow is the Alton Barnes White Horse, dug in the 19th Century. You are supposed to sit on the eye and make a wish!